Running Time:
2 hours, 13 minutes
Rating: PG-13 Parents Strongly Cautioned.

Rating Explanation:
for violent content, depiction of physical hardships, a nude image and brief strong language.
Additional Info:
DVD Features: Behind-the-Scenes Featurette; Trailer

CAST:
Jim Sturgess ... Janusz
Colin Farrell ... Valka
Ed Harris ... Mr. Smith
Alexandru Potocean ... Tomasz
Saoirse Ronan ... Irena
Gustaf Skarsgård ... Voss
Mark Strong ... Khabarov
Dragos Bucur ... Zoran
The opening scenes of this drama directed by Peter Weir ("The Truman Show") is based on a true story which takes place in Russian-occupied Poland in 1939 as prisoners in a Soviet Union labor camp where Janusz (Jim Sturgess) is being interrogated and confronted by his own wife's denunciation for treason. She had been tortured, though Janusz, similarly put to the rack, has refused to sign a confession declaring that he is innocent of the charges.
But he is sent to a prison work camp in Siberia, which is as dreary and cold as you'd imagine. But he begins to hear talk that, in fact, escape is possible. Of course, once you get clear of the barbed wire fences, you have to survive the harsh Siberian winter. And then it's a thousand miles to anywhere.
Soon Janusz hooks up with a common thief, Valka (Colin Farrell) who has no problem with Stalin and even sports a tattoo on his chest of the dictator alongside Lenin. Also imprisoned with him is Mr. Smith (Ed Harris), an American who's there because Stalin "hates foreigners"; Tomasz (Alexandru Potocean); Voss (Gustaf Skarsgard); Khabarov (Mark Strong); and Kazik (Sebastian Urzendowsky). After they breakout, they run into a Polish woman on the run, Irena (Saoirse Ronan), whom they take in despite opposition from Mr. Smith, who believes there's not enough food, though Valka jokingly suggests that she can become meat for the men when
she dies. Through it all, Janusz is determined to find his way back to his wife.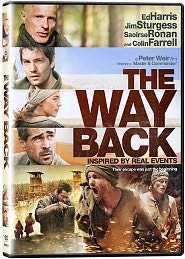 The Way Back was filmed mostly in Bulgaria, with additional locations in Morocco and India. It's nor really boring, but you quickly become tired of the long, long trek to freedom.