Running Time:
2 hours, 9 minutes
Rating: PG-13 Parents Strongly Cautioned.

Rating Explanation:
for mature thematic elements including disturbing disaster and accident images, and for brief strong language.
Additional Info:
Added DVD Features: Tsunami! Recreating a disaster, Hereafter's locations - casting the silent characters and the Eastwood experience.

CAST:
Matt Damon ... George Lonegan
Bryce Dallas Howard ... Melanie
Jay Mohr ... Billy
Richard Kind ... Christos
CÚcile De France ... Marie LeLay
Jenifer Lewis ... Candace
Marthe Keller ... Dr. Rousseau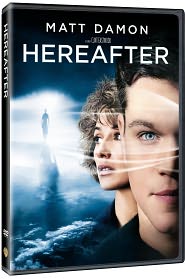 The story opens when a French television anchorwoman, Marie (Cécile De France) and her married producer (Thierry Neuvic) are caught in a deadly tsunami that wipes out a good portion of the beach resort where they are staying. Marie barely survives the disaster, and her close brush with death leaves her pre-occupied with the afterlife. Meanwhile, back in the states, George (Matt Damon "The Departed") is a psychic who seems to be able to communicate with the dead which he feels is more of "a curse" than a gift, but his brother Billy (Jay Mohr "Go") coaxes him to help a client who recently lost someone.

Over in London twin brothers, Marcus and Jason (George and Frankie McLaren) are trying to help their mother keep social services away from their door. After being chased by some bullies, Jason is killed by a truck and Marcus is sent to live in a foster home. He begins searching for anything that will help him keep in contact with his brother. But his quest leads him to a number of false prophets. Meanwhile back in the U.S., George has decided to take up cooking lessons and is luckily partnered up with the lovely Melanie (Bryce Dallas Howard "The Village"). Back in France, Marie cannot shake her near-death experience leading her to be replaced on the air while she explores this phenomenon by writing a book. But her writing veers off course as she investigates scientists who research the afterlife and the stigma attached to their work.

Hereafter directed by Clint Eastwood ("Million Dollar Baby"), in an amazing switch from his previous films, has made a bit of a draggy movie, as it meanders quite a bit bit during its sluggish midsection. Although it's never boring, it could have been tightened up a bit. Writer Peter Morgan (The Queen") doesn't delve too deeply into what lies beyond the grave, as the film's essentially about the people left behind, but this is probably the only way a director like Eastwood would ever want to approach a story like this and it's quite
effective
. There are no scares, but there's a lot of emotion, and although it's hardly Eastwood's best movie, it's not bad.