Running Time:
1 hour, 52 minutes
Rating: R Restricted. Under 17 Requires Accompanying Adult.

Rating Explanation:
for a scene of sexuality/nudity.
Additional Info:
CAST:
Christopher Plummer ... Tolstoy
Helen Mirren ... Sofya Tolstoy
James McAvoy ... Bulgakov
Paul Giamatti ... Chertkov
Anne-Marie Duff ... Sasha Tolstoy
Kerry Condon ... Masha
John Sessions ... Dushan
Patrick Kennedy ... Sergeyenko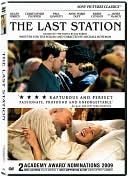 Fact
an
d fiction converge in this drama about the l
ast days of Leo Tolstoy based on the novel by Jay Parini. Tolstoy is played by Christopher Plummer ("The Sound of Music") and his wife Sofya is Helen Mirren ("The Queen") who both inhabit their roles completely. Plummer instantly conveys a still-virile octogenarian well aware of his celebrity but equally conscious of his imperfections, while Mirren perfectly moves between sequences in which Sofya is lovely and charming to others in which she viciously rages and rants, but it's all played with such expertise that you're bound to relish this exhibition of her sheer virtuosity. Sadly, the rest of the film isn't quite up to their level.

Paul Giamatti ("Cinderella Man") as Vladimir Chertkov, the leader of the Tolstoyans who's maneuvering the writer to sign over the copyright to his work to the Russian people, is simply miscast. He comes across as a simple conniver, actually twirling his moustache as he busily invents a plan to get control of Tolstoy's royalties. And equally obvious is James McAvoy (Atonement"), as Valentin Bulgakov whom Chertkov places in the household as Tolstoy's personal secretary, but really to serve as his spy.

The rest of the supporting cast including Kerry Condon ("Angela's Ashes") who plays Masha, a proto-feminist member of Tolstoy's commune, Anne-Marie Duff ("Notes on a Scandal") as Tolstoy's daughter Sasha, a supporter of Chertkov, John Sessions ("The Good Shepherd") as the physician who takes down the great man's every utterance, and Patrick Kennedy ("Me and Orson Welles") as the rigid commune steward, all give similarly one-note performances.

Visually The Last Station adapted and directed by Michael Hoffman ("One Fine Day") is fine without being exceptional. Though it was obviously made on a limited budget, it benefits from a solid period production design, art direction and cinematography which captures the period with style and elegance, and the score by Sergey Yevushenko ("
Russian Ark"
)
is also supportive without being obtrusive; nevertheless, this is basically the kind of costume drama that you'd find on PBS' Masterpiece Theater, nothing more or less.